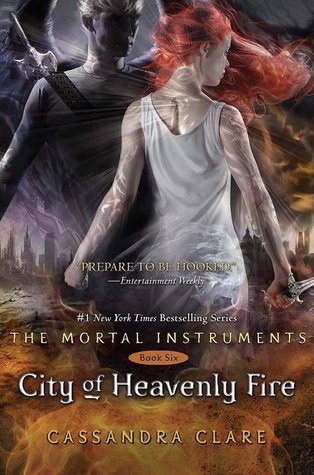 Hey everyone!
City of Heavenly Fire by Cassandra Clare, the sixth and final book in The Mortal Instruments, is due to come out a week from this Tuesday (May 27). If you asked me a year or so ago on how excited I was for this book, when I just read TMI one time through, I would've maybe said a 5 or 6 (1 being didn't care, 10 being like Blood of Olympus). However, if you asked me 2-3 months ago,, I would've said like a 7-7.5. And now, if you ask me, it's more like an 8-8.25 (quite specific, I know). So, if you're personally not super excited for COHF, though you are planning on reading it, I'll share with you the two things I did to get me more excited. Of course, mine was over a year or so, and it might be cutting it close with a week and half, but if you set your mind to it, you might actually be able to get this two things done.
When I first read TMI, I liked them but definitely didn't love them. My average rating for the whole series was about a 3.6/5 (I did math go me). I liked some aspects, but didn't love others.
In late January and early February of this year, I finally came around to reading The Infernal Devices, Cassandra Clare's prequel trilogy in the Shadowhunter world. I enjoyed the first book, but I loved the last two. And no spoilers for the trilogy, though if you read it, you may understand when I say this: I'm excited to see some characters (particularly one jem) in the last book, ones I loved more than some TMI characters. So for that reason, I was excited to read COHF.
Then last week, I reread COFA and COLS numbers 4 and 5 in the series to refresh my memory. Normally I can remember books pretty well, but because I didn't love TMI, some details went askew. Nonetheless, I reread them and really enjoyed them the second time around. And now I really want to know what happens to the characters and the world in which they live.
I can officially say that I am really excited to read this last book.
Thanks for reading, Kait